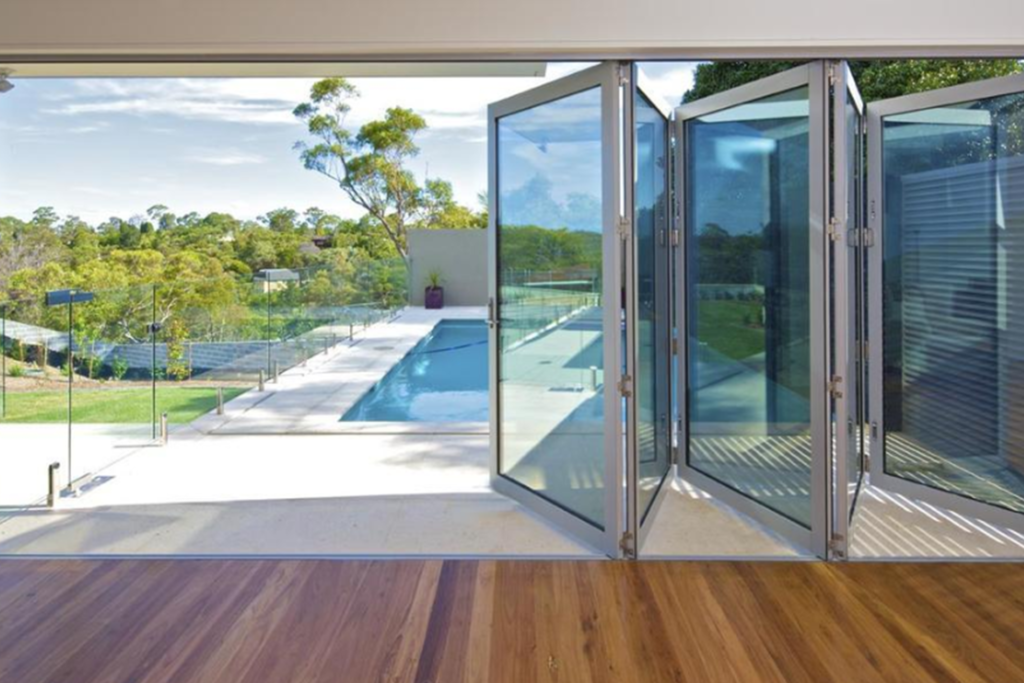 Designed with large floor to ceiling applications in mind, the Hawkesbury® Multi-Fold Door Range combine full sized commercial perimeter framing with specially designed commercial door stiles. A functional alternative to traditional door units in lighter commercial and residential applications the Hawkesbury® E2 and E3 Door Range removes the barriers to allow flow between indoor and outdoor living. Whether the doors are open in fine weather or securely fastened into place as sturdy impenetrable walls, the Alspec® Hawkesbury® Door is the only choice.

Specifications
• Maximum Panel Height: 3000mm
• Maximum Panel Width: 1000mm
• Maximum Glass Thickness: 13.5mm or 28mm IGU
• Maximum Panel Weight: 60kg E2A / 115kg E3A
Compatible Systems
• McArthur Evo 101.6mm Centre Pocket Framing
• Hunter Evo 101.6mm Single Flush Glazed Framing
• Hunter Evo 101.6mm Double Flush Glazed Framing
• ecoFRAMEplus 101.6mm Centre Pocket Double Glazed Framing
Options
• A range of sill options for water or recessed openings.
• Retractable screening options for insect protection.

Hardware
Powered by exclusive hardware from Centor Architectural the Hawkesbury® Door features top-rolling operation for smooth, trouble-free operation whether
configured for inward or outward stacking or with an odd or even number of door stiles. Tyred floor guides run effortlessly in channels neatly concealed beneath
closed doors, while effective Weatherseal technology keeps wind, rain and cold air where it belongs. The stabilising centre hinge controls door stile deflection and
bowing on tall doors, whilst the exclusive SurelockTM system allows for simple vertical height adjustment with a screwdriver.
Standard lock hardware options include Brio's lever furniture, combined with Lockwood's proven Optimum mortice lock. Fitting snug within the stile and allowing
an extended backset, this lock removes the common issue of minimal key distance to the jamb. Other lock options include commercial locksets and furniture for a
complete choice.